What Is The Best Strategy To Increase Your Email Open Rate?
People that expect your emails will be more likely to open them, so first thing to note here is that a single opt-in is the minimum required way of doing things right.
Updated:
It all begins with the way you built your list in the first place.
I have seen it all in terms of list building…
…from the extreme of greedy companies that steal email addresses from websites (Linkedin, Classifieds, Facebook, you name it!) by using automatic or manual scrappers (and get a lot of crappy emails).
…to the extreme of companies that use double opt-in to ensure their visitors know what they were getting themselves into (and they miss a lot of good emails).
Which companies would you guess will have a better open rate?
Obviously people that expect your emails will be more likely to open them, so first thing to note here is that a single opt-in is the minimum required way of doing things right.
DO-NOT buy lists or use emails scrappers to  have a list.
The only way your emails are getting through is if they're warranted. Warranted with permission OR with content that actually appeals to the recipient.
The standard email open rate is dependent upon the sector and the number of emails you have already sent. It's not unusual for the first emails to be have an open rate of 50-75%, but overtime it goes down to 15-25%.
It is certainly not terrible but without doubt isn't good. However, if you compare that to a list that was bought or emails that were scrapped, that stat goes down to 1%.
A few suggestions to consider to improve your numbers:
Use a Compelling Subject Line!
Once you've laid the preparation, it's it is time to start working on creating emails that your subscribers can't help but open.
It always starts with putting together a great subject line.
The subject line should definitely be written a lot like the headline of a blog post although you have a little more freedom with it.
The subject line is definitely the most important part of of the email, and it should not have any spammy words such as "free", "money", "sale".
Some people use the clickbait approach like James Altucher:
> Notice that I haven't open a single email from James for the last weeks, but I like his subject lines, that's the only reason I'm subscribed to his list.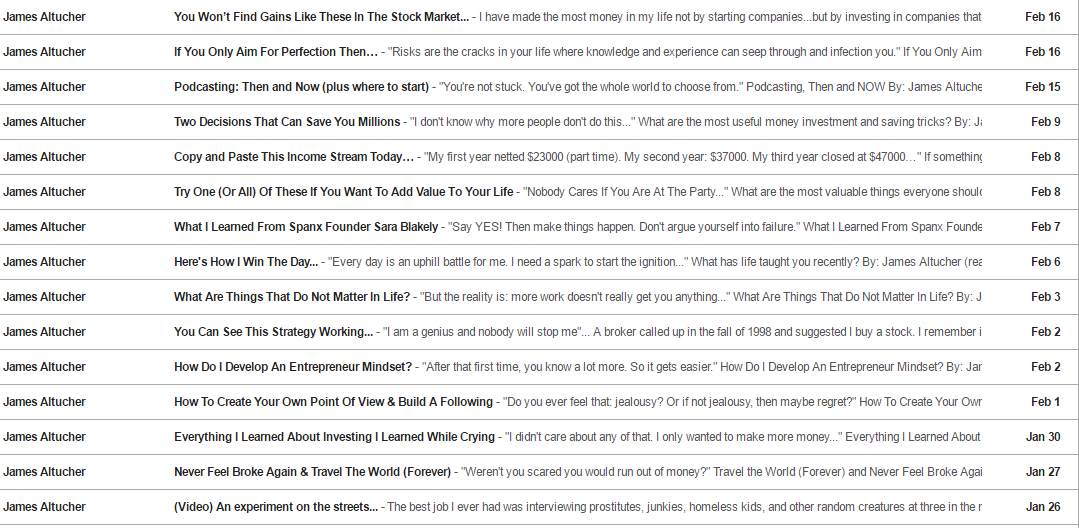 No matter what most marketers think, our email inboxes are a personal space.
So make the subject line a priority. Come up with 10–20 different subject lines, whittle it down to 2, and test both of them.
2. Focus on the benefit
With this particular approach, you emphasis the end result your reader is after most.
Answer Your Reader's question:
"What's in it for me?"
Writing and delivering a good email subject line is just like writing a great headline.
If you're cold-emailing anyone you've never met, it's important to strike a balance between being direct and being interesting.
Remember while it's a smart idea to be very clear, you additionally don't want to give anyone a reason to ignore your email before reading it.
This is the reason why, you'll want to avoid stock or cookie-cutter phrases that may possibly get your email lumped in (and glossed over) with others.
3. Secure your credibility
"Why should I care ?" is the tacit question hovering in most people's minds every time they see an email from someone they don't know well.
Which is the reason creating credibility is essential. Tell your reader the reasons you are different, why you are accomplished, and why they should listen to you.
It's all about value
Carefully consider why new subscribers might open that primary email: it's to get something.
At this stage, you're not a friend. You're not even an acquaintance.
Never the less you should have something they want, whether it's knowledge or a tool.
Trust takes time
You will want to earn trust by giving away value, time after time. Once a subscriber realizes that you're not just trying to make a quick buck off them and that your work is actually making a difference in their lives, they will start to trust you.
4. Share interesting personal stories
One of the best ways for someone to get to know you and get a glimpse of your life is for you to share personal stories with them. You can do this in your blog posts, but email is another great time to do it. After all, when friends want to tell us a story, they don't write us a blog post. They send us an email.
If you read more than 2 emails from James Altucher you will quickly realize that he always writes a story in his emails, and this is–in my opinion–what makes him stand out.
Most of his stories seem to be fabricated and overly exaggerated to trigger emotions, but the point is that there are always personal stories that support whatever subject he is writing about.
5. Be direct
Never assume that someone is going to read your entire email. You should make it clear from the get-go exactly what you are asking for.
That means clarifying why you're reaching out in the first sentence or two, and no later. Short and sweet is the topic strategy.
6. Write like a normal human being
Do not overuse exclamation points and capitalizations. SPAM filters catch that immediately.
Keep your communication casual, like you would with a close friend.
---
Post Summary:
Reach the Inbox: Make sure that the email lands in the recipient's Primary Inbox (not spam, not in Promotional, Updates, etc).
Killer subject line: Make sure that the user opens your email after reading the subject line. Remember — Having a correct subject line is more often that not a deal breaker.
Tell stories: Make sure that the email's content is personalised and engaging
CTA: Have some clear call to action, this is done by stating the reason you send the email in the first place.
[su_box title="Email Marketing Bonus!" box_color="#313969″]Download our FREE Email Marketing Training Guide; we have some great Email Marketing strategies for you. [/su_box]